Group Companies
Watahan Home-Aid Co., Ltd.
Watahan Home-Aid Co., Ltd.
Evolving Each Family's Life in Vibrant and Healthy Ways Through Retail Sales with the Spirit of Nagano Culture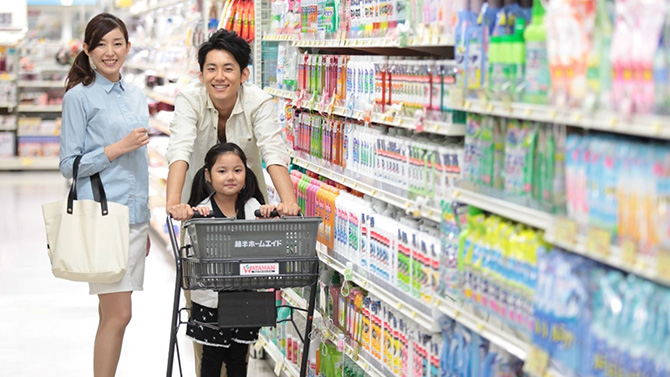 As a company deeply rooted in the local area, we have developed 21 home improvement super centers, mainly in Nagano Prefecture. Our slogan, "Enjoy Life," reflects our focus on and commitment to bringing enjoyment and enrichment to our customers' lives. We provide more than 100,000 products to meet people's daily and occasional needs, far exceeding the range of other companies.
By integrating three values -- an optimal balance of quality and price, products that inspire confidence in purchasing, and service that makes shoppers want to come again -- we aim to create a new "Super Value" for our customers.
Company Profile
Name
Watahan Home-Aid Co., Ltd.
Head Office
205 Minami-nagaike, Nagano City, Nagano

 


(Tel : +81-(0)26-243-3200)
Corporate
Establishment
Jan. 13, 1977
Business
Chain development of home improvement super center stores management
Capital
100,000,000 yen(100% capitalized by Watahan & Co., Ltd.)
Account Settlement
March 31 annually
Employees
2,532(including parttime workers) as of March 31, 2021
Board Members

Senior Chairman

Isamu Nohara

President

Yoshihiko Makishima

Vice President

Toshiaki Maezawa

Vice President

Yukiharu Nagaoka

Audit & Supervisory Board Member

Yukihiro Shinoda

Principal Places of Business
Nagaike Store, Wakasato Store, Kawanakajima Store, Inasato Store, Mayumida Store, Suzaka Store, Nakano Store, Chikuma Store, Hotaka Store, Shonai Store, Toyoshina Store, Matsumoto-Yoshikawa Store, Shiojiri Store, Suwa Store, Minowa Store, Ina Store, Apple Road Store, Konan Store, Higashimurayama Store, Fuji-Kawaguchiko Store, Kani Store
Main Banks
Hachijuni Bank
Web Site
https://watahan.jp
(Apr. 1, 2021)