Group Companies
Watahan Jmart Co., Ltd.
We will commit to make all customers' lifestyle happier and more wealthy by suppling the various goods impressing all of you at new and attractive display.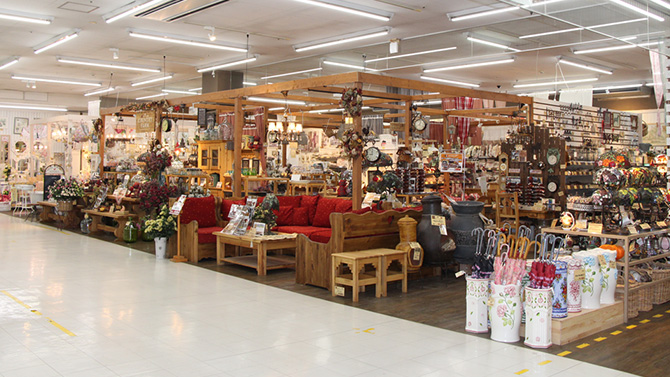 We have started our business at Musashino, the west of Tokyo, and expanded to 10 stores of Home improvement center in Kanto-Koshin area.
Our duty is " our store will enrich lifestyle of all customers "We continue to challenge to supply the extensive range of products from all over the world enriching the lifestyle of everyone.
We will strongly process to make the only store loved by every customers by responding sincerely to costomers' demands.
Company Profile
Name
Watahan Jmart Co., Ltd.
Head Office
Watahan Nohara Bldg., 1-4 Yotsuya, Shinjuku-ku, Tokyo

 


(Tel :03-3341-2766)
Corporate
Establishment
Feb. 6, 1957
Business
Management of home improvement centers
Capital
100,000,000 yen(100% capitalized by Watahan & Co., Ltd.)
Account Settlement
March 31 annually
Employees
662(including parttime workers) as of March 31, 2021
Board Members

Senior Chariman

Isamu Nohara

President

Yoshihiko Makishima

Senior Vice President

Hideki Yajima

Principal Places of
Business
Kokubunji Store, Manriki Store, Tsuru Store, Hatta Store, Nagasaka Store, Ogano Store, Sakado Store, Fujimi Store, Suwa-Inter Store, Sagamiko Store
Main Banks
Hachijuni Bank, Mitsubishi UFJ Bank, Mitsui Sumitomo Bank and Mizuho Bank
Web Site
https://watahan.jp
(Apr. 1, 2021)